Logitech Google TV Box Review with Full Specifications
October 7, 2010 | by techlineinfo.com
Post the much anticipated unveilment of Google TV people were all excited to know – what next?
Google had made pact with well famed Logitech for the Google TV Box that will enable the users to get hold of Google's services even with their old television in place. The Logitech Google TV Box has now been made available for a pre-order.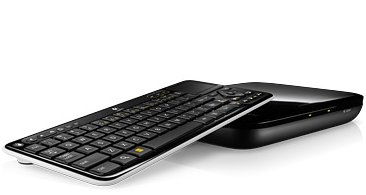 Now, if you have already decided upon Google TV and don't want to invest on a brand new television from Sony, you can place your order now. The price-tag that this Box bears is around $299. On placing the order right-away you will get your box delivered to you by the end of the month.
A set of interesting facts and features about this bleeding edge gadget have come to light. Some of them which are worth mentioning are – HD calling, a wide array of controls, Myriad apps.
Facts About the Tool:
Google and Logitech have worked hand in hand to design the box specifically keeping in mind the various services that Google TV is going to provide the consumers.
Holding the Revue keyboard, first thing that is bound to strike your mind is its thickness –  it is indeed ultra-sleek and stylish. For the few interested in the tech specs – the keyboard is power-packed with a touchpad, d-pad, and full QWERTY buttons and gives you best of both sides – fashion and technology.
Well, there's the second way out – you can also opt for the 'mini-controller' which undoubtedly is going to be the next big thing. The look and feel of the tool is simply sensational. The controller irrespective of its size will flaunt all the same functionality as the full keyboard and will be powered by Harmony remote technology as Logitech's other Revue peripherals.
All doesn't end here there is also this mobile app – Logitech Harmony Remote out there  for both the Android and iPhone platforms which comes in as a third gate-way to the world of Google. This app facilitates a traditional menu interface, gesture control, smart-touch and voice commands.
Revue will give you the liberty to stream almost anything with support for popular codecs like – MP3, AAC, JPEG, and most importantly MKV. The tool will also facilitate video conferencing with aid from an external camera which can also be procured from Logitech.
Specifications:
HDMI 1.3 with 1080p, 60fps output
2 USB ports (allowing for added local Google TV storage)
802.11a/b/g/n wireless connectivity
Integrated support for the Logitech Harmony remote
SPDIF audio out
Ethernet connectivity
Price:
The Logitech Revue box can be bagged at $299, the keyboard will take an extra $99, the mini controller for the sophisticated few comes in at $129, but the smart get-away would be with smartphone apps which will be available for free. The TV cam which will give you a corporate feel is bound to be well-priced and happens to cost around $149. Best Buy and Amazon, are proudly hosting the Revue setup for pre order this month.