Three Best 3D TVs of 2010
October 6, 2010 | by techlineinfo.com
The Third Dimension has quite seamlessly stepped into the domain of home entertainment world-wide. Today we are viewing the introduction of 3D appliances in each and every entertainment industry. From 3D Movies to 3D Games it all call for the rise of newly designed hardware that will support and equally effectively return back the 3D experience.
This year has doctrined the launch of several 3D Televisions from different companies all corners of the world. But, one can not trust them all. They basic reason is that the prices of these display devices are altogether very high. So, if you are to invest the hefty amount, you should think twice before going for an action. If you are looking for a moderate well to do 3D TV then the prices may vary within the range of $1,999 – $3,999.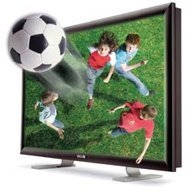 We went through a series of models and found that Sony, Samsung and Panasonic were the one who look pretty good and are sure to reach up to the promises they have already made. There are a selection of other companies though providing similar services, some even are giving away the same features at a lower price, but in the long run the durability and quality are the things you got to look for apart from planning your budget well.
Sony Bravia XBR-52HX909
Sony's take on the 3D biz is a bit costly but they do deliver value for money. Their quality is un-questionable apart from a few exceptional cases. It costs around $2,707.00 – $3,600.00.
Specifications:
Manufacturer: Sony
Part Number:XBR-52HX900
Diagonal Size 52 in
Technology : LED-LCD
LCD Backlight Technology : LED Backlight technology
LED Backlight Type : Full-array w/ local dimming
Display Format  : 1080p
Refresh Rate  : 240Hz
3D Technology  : Yes
Additional Features  : 3D compatible
Power Saver : Yes
Operational power consumption  : 127.72 Watt
Calibrated power consumption  : 93.82 Watt
Power Save Mode power consumption : 88.81 Watt
Power consumption Stand by / Sleep : 0.02 Watt
Estimated Annual Energy Cost  : 20.58 US Dollars
Greenpeace policy rating  : 4.9 (May 2010)
Samsung PN50C7000
Samsung offers a better choice if value for money is concerned. Over-all the television is great but it has some problems with high contrast areas. You can take this one home at $1,295.00 – $1,699.99.
Specifications:
Manufacturer: Samsung
Part Number: PN50C7000
Series: 7 Series
Product type: Plasma TV
Diagonal Size: 50 in – Widescreen
Dimensions & Weight Details: Panel with stand – 47.6 in x 8.9 in x 31.8 in x 63.5 lbs , Panel without stand – 47.6 in x 1.4 in x 29.5 in x 54 lbs
Technology: Plasma (PDP)
Display Format: 1080p
Refresh Rate: 600 Hz
LCD Pixel Response Time: 0.001 ms
3D Technology: Yes
Progressive Scan: Progressive scanning (line doubling)
Additional Features: 3D compatible
Operational power consumption: 169.01 Watt
Calibrated power consumption: 255.76 Watt
Power Save Mode power consumption: 131.11 Watt
Power consumption Stand by / Sleep: 0.08 Watt
Estimated Annual Energy Cost: 77.69 US Dollars
ENERGY STAR Qualified: Yes
Greenpeace policy rating: 3.7 (May 2010)
Panasonic Viera TC-P50VT25
Panasonic is by far offering the best of both sides. The company maintains a good balance between quality and affordability. The Panasonic 3D TV can be purchased at $1,886.99 – $2,599.98.
Specifications:
Manufacturer: Panasonic
Part Number: TC-P50VT25
Diagonal Size: 50 in
Technology: Plasma (PDP)
Display Format: 1080p
Additional Features: 3D compatible , Pro setting user menu , Pre-discharge control technology
Refresh Rate: 96 Hz
Operational power consumption: 175.69 Watt
Calibrated power consumption: 275.08 Watt
Power consumption Stand by / Sleep: 0.14 Watt
Estimated Annual Energy Cost: 60.41 US Dollars
Greenpeace policy rating: 4.9 (May 2010)